A Twitter thread by ᴅᴀᴠɪᴅ ᴘᴇʀᴇʟʟ.
The world is going digital.

What will the world look like in 10 years?

Here are my predictions:

1. Dominance of Cities

Life in cities will become much more efficient.

Examples include instant food delivery, cloud kitchens, self-driving cars, alternative modes of education.
2. Death of Mid-Tier Universities

Student debt has become unsustainable.

44 million Americans collectively owe more than $1.5 trillion in student debt, a 457% increase since 2003.

Hundreds of mid-tier universities will go bankrupt.

But top-tier universities will still thrive.
3. New Kinds of Education

We have the information we need in our pockets. Now education needs to change.

1. Homeschooling will become common

2. The best independent online teachers will make more than $1 million per year.

A billion-dollar business will be built in each space.
4. Dominance of Remote Work

The number of remote workers will jump by more than 500% this decade.

People want control over time and place, and the rising costs of office space in big cities will accelerate this trend.

Business education must adapt to this remote work trend.
5. Video Games Will Accelerate the Remote Work Trend

Children today will grow up hanging out with their friends online, where they're learning about digital collaboration.

Video conferencing will improve dramatically, making online conversations feel natural.

Global teamwork.
6. New Kinds of Business Education

1) Remote workers work alone, so they'll need a collection of skills — from design, to API integrations, to spreadsheet creation.

2) Remote work will shift communication from voice to text, which will make business writing a mandatory skill.
7. Audience-First Products

Entrepreneurship schools will help people build products AND audiences.

The new three-step process for entrepreneurship:

1) Build an audience
2) Build a product for your audience
3) Scale your product with software

https://www.perell.com/blog/audience-first-products …
8. Bootstrapped Businesses

This quote nails it.

"The New American Dream is to build a profitable, sustainable, remote software business that can be run from anywhere, scales nicely, and prints money." — @TylerTringas

https://www.perell.com/blog/new-american-dream …
9. Video-Based Productivity Blogs

Tomorrow's productivity blogs will be video-based.

Remote work is exploding, and young people are increasingly comfortable on camera.

A handful of knowledge workers will build massive audiences by open-sourcing their entire workflow.
10. Inequality #1: Software Inequality

We'll see new kinds of inequality.

Companies are creating more and more value with fewer and fewer people.

What's App has 900 million users with just 50 engineers and sold to Facebook for $19 billion.

Build compounding assets.
11. Inequality #2: Reach Inequality

The mainstream media has lost its monopoly.

Anybody, anywhere can now build an online audience.

We'll debate "attention inequality" like we debate "wealth inequality."

The debate will center around themes like privilege and redistribution.
12. Inequality #3: Knowledge Inequality

You need self-control to succeed in a world of abundance.

Information abundance is bad for the average person, but a gift to smart consumers.

Knowledge inequality has always existed, but the internet will exaggerate its effects.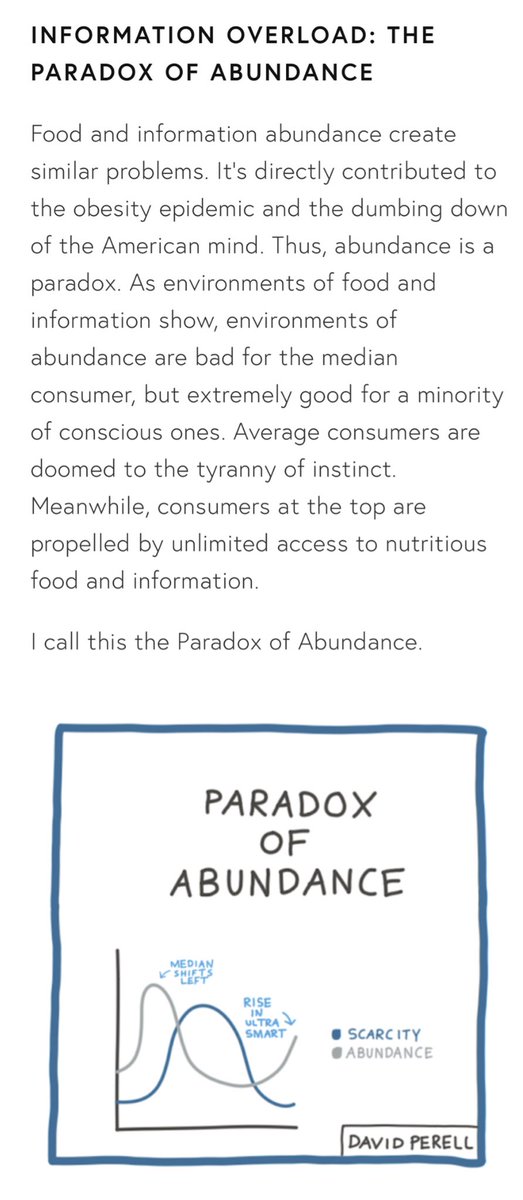 13. New Money

Cryptocurrencies reflect the digital, networked, and international world we're entering.

Meanwhile, trust in government is falling globally.

Government debt and money printing are also increasing.

People want new ways to store their wealth.

Bet on sound money.
14. Knowledge Management Will Become a Core Skill

You need a trusted system for organizing your ideas.

Big benefits will go to people who can surf the wave of information overload instead of drowning under a tsunami of ideas.

Here's my system.

https://www.youtube.com/watch?v=lNJ33ImlZzs …
What Should You Work On?

Focus on five industries:

1. Energy
2. Education
3. Housing
4. Healthcare
5. Transportation

All big markets.

Their costs are rising faster than the rate of inflation, which means there's big demand for alternative solutions.